19 PRS homes earmarked for Galashiels
|
Send to friend
March 7 2018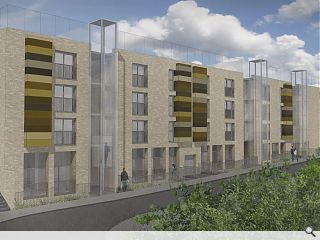 Galashiels has been earmarked for the construction of
19 new flats for private rent
at Burns Mill and Roxburgh Street, by a local design and build company.
Borders Low Carbon Developments have chosen the town centre site to host the mix of mainstream and affordable homes targeted at everyone from students, families and singles to the retired.
Spanning a range of studio apartments through to two-bedroom flats the project is situated just a four-minute walk away from the Border town's new
transport hub
. Arranged over four storeys the project will face the street with a setback brick and steel arcade with access provided by three projecting lift enclosures.
Explaining their design approach the developer wrote: "Three fully glazed stairs and projecting lift enclosures bridging the Lint Burn next to the flat entrances will articulate the building form into three blocks of dwelling accommodation, allowing sunlight and views of the steep rear garden and woodland to filter through into the street. The stairs will become atria/winter gardens where they spill onto the roof level.
"Projecting 'cliffs' of stacked storage closets, clad with multi-coloured bands of anodized aluminium, will complement the rich honey buff brick walls.
"The three building blocks will be topped by a shimmering double screen of galvanised steel mesh that will transform with time into a green hanging garden as the espalier wrap-around orchard on the roof matures."
Enabling works could begin as early as the autumn for occupation by the end of 2019 subject to the necessary permits.
Back to March 2018