North Kelvinside Primary plans tabled
March 18 2019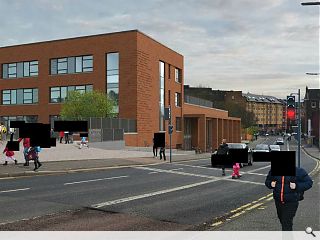 Glasgow City Council have gone public with plans to build a new school on playing fields off Queen Margaret Drive to meet projected future demand for places.
North Kelvinside Primary will sit on 2.4 hectares of land bounded by Maryhill Road and Kelvinside Avenue, delivering 14 classrooms with space for 378 pupils, including a main atrium and multi-purpose hall.
Conceived as a community building with its own civic identity the build will be finished predominantly in brick, enlivened through use of a brick colonnade and horizontal bands of protruding brick courses.
In a statement the council wrote: "The 4-court hall and drama stage will be expressed as a 'lightweight' box projecting through the multi-purpose block. It will be clad with a polyester powder coated aluminium rainscreen system that continues down part of the façade onto the playground, to highlight the entrance to the team changing rooms from the pitch."
A number of vertical curtain wall panels will break up the north elevation with artwork incorporated to acid etched glass.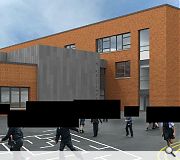 All classrooms will overlook an external play space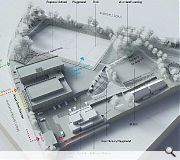 Two wings of accommodation will be arranged around twin atria
Back to March 2019