Stirling inner ring road missing link proposed
|
Send to friend
January 22 2019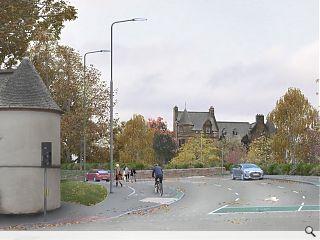 Proposals to complete the missing link in Stirling's inner ring road have been filed by WSP, with plans for a new road, pedestrian and cycle route connecting St Ninians Road to the A9.
The Viewforth Link Road is being backed by Stirling Council as a means of reducing congestion in the city centre by redistributing traffic to the south, improving pedestrian and cycle connections in the process.
A 360m stretch of single carriageway road will connect the Snowden Place junction to the Linden roundabout spanning land occupied by Stirling Council's former HQ in the King's Park conservation area.
In their design statement WSP wrote: "The alignment of the route of the proposed Link Road has been determined by the topography, existing building locations and access points. The topography of the Burghmuir embankment is the greatest constraint to the alignment and gradients. From the west, the route uses the existing access to St Ninian's road with some widening to meet safe visibility and access standards.
"The route curves towards the north east, around Langgarth House and then down the embankment to the south east at the Linden car park where it joins the Linden roundabout with the Burghmuir Road /A9. The change in levels require some cutting either side of the road north of Langgarth House, and then fill to help ease the gradients down the embankment to the east."
Landscaping and planting will be utilised to protect the setting of the historic Langgarth House and lodge as part of the works.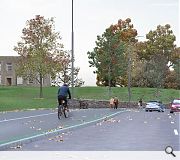 Landscaping will be employed to mitigate impact on the conservation area
Back to January 2019