Stirling Council to demolish New Viewforth complex
August 30 2012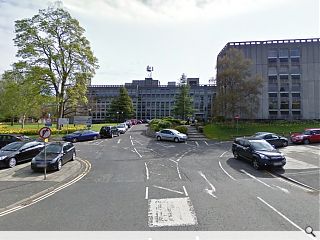 Stirling Council has announced its intention to demolish its New Viewforth office complex, one of Stirling's largest office blocks, once staff complete a move into the adjacent Drummond House in June 2013.
The decision to demolish the structure, which is just 40 years old, was taken following advice that it would be 'challenging' to reuse whilst maintenance would incur ongoing costs.
Consideration of wider master-planning of the site and its environs will now be undertaken, particularly in relation to a potential Viewforth link road.
Councillor Neil Benny said: "I don't think this brutalist 1960s building will be missed. Moving council staff to new, smaller offices will be significantly cheaper and offer a better working environment.
"In reality there is no other use that this building could be put to and it is better to take the decision to do this now, rather than prevaricate and leave an empty building which will cost a fortune in rates and security."
Old Viewforth, built in 1939, will remain unaffected by the decision.
Back to August 2012