Glasgow investigates urban greening via M8 roof garden
January 9 2019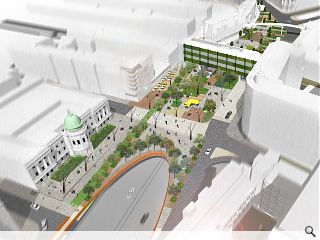 Glasgow City Council has progressed its vision to deck over a section of the M8 motorway through Charing Cross as part of a wider public realm initiative for the area born out of the Sauchiehall Avenue project.
The authority is expected to award a £250k contract for a design feasibility study on the idea shortly, encompassing engineering considerations, costs, a construction strategy and traffic management.
Indicative images show how the traffic choked interchange could be transformed into a pedestrian friendly environment by bringing forward improvements to Charing Cross North, South and the area between the Mitchell library with Charing Cross Station.
Each project could be delivered in isolation or in tandem and include a vision to create a 'roof garden' over the motorway below as well as wider landscape improvements such as a public square outside Charing Cross Station and a pedestrian/cycle bridge connecting to the Mitchell Library.
A council spokesman remarked: "While the idea of a cap over the M8 is only one of the proposals now entering the feasibility study stage, it does reflect our ambitions and priorities in putting people at the centre of the regeneration of the city centre."
A lead consultant and multi-disciplinary design team will be appointed 'very shortly'.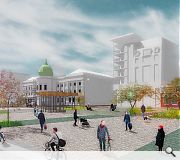 Improvements will be predicated on the outcome of the feasibility study and future funding
Back to January 2019