CALA follow up Aberdeen Parklands development with a further 36 flats
January 9 2019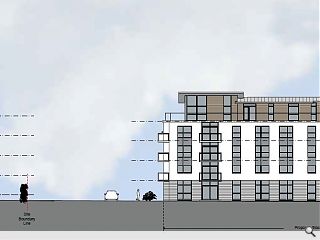 CALA are bringing forward plans for a further 36 flats at their Parklands development in Aberdeen, following completion of two existing blocks at May Baird Gardens.
The newest edition to the grounds of the former Cornhill Hospital has been conceived by Mackie Ramsay Taylor to follow the precedent set by the earlier build.
As such the development will adopt a similar palette of materials with a smooth render finish to the five storey build above a stone basecourse and topped by a recessed upper level with an overhanging roof.
In a planning statement Halliday Fraser Munro wrote: "The proposed block is positioned on the former Ross Clinic building and has been sited to minimise impact on the open space, ensure visual impact is limited and set the buildings effectively within the site.
"The building massing is in line with both the adjacent nursery and May Baird Gardens. The contemporary external materials, elevated treatments and the appropriate scale and massing proposed ensures that the development compliments the local identity and recognises the surrounding character and built form."
Landscape features such as mature trees and a granite wall, remaining from when the site formed the grounds of Elmhill House, will be retained.
Back to January 2019