Aberdeen workshop falls to industrial to residential push
January 8 2019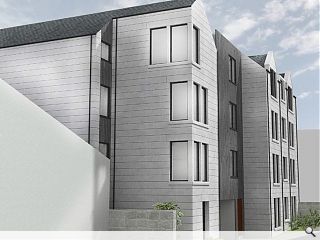 Neil Rothnie Architecture have come forward with plans to replace a Victorian printer's workshop at 15 Maberly Street with 16 flats on behalf of Aberdeen Capital Investment.
Located on the boundary of Broadford Works the plan calls for this to be achieved via an L-shaped build respecting the scale of nearby tenements, extending gradual residential expansion in the former industrial area.
A split personality sees the sees the front elevations adopt a more conservative form, framing more contemporary elements of the design.
Explaining the chosen form of the build the practice stated: "The more contemporary forms to the street front are designed to recede back from this traditional anchor. Both from a literal setting back of the face in a staggered manner and by receding ridge heights, sympathetic but creating a visual interest.

"To the rear of the property the general forms are kept conservative due to little public views of these. Where dormers are formed a 'box' effect has been created to provide interest to corners and conceal roof junctions."
Finished in a mix of granite, white render and grey timber cladding, retaining an existing granite rear boundary wall.
Back to January 2019