Leftover Leith land lined up for 49 homes
|
Send to friend
January 8 2019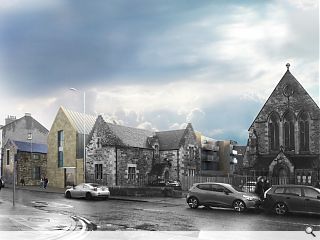 Covell Mathews Architects have proposed the redevelopment of a disused garage and warehouse in Edinburgh to create 49 new homes, after the developable parcel of land was assembled by K&S Mir.
Situated at the junction of Constitution Street and John's Lane the scheme will entail the demolition of buildings which do not contribute to the character of the conservation area, as well as the re-use of a listed building.
Three separate elements will see the warehouse refitted to house 20 flats with a further two homes created within a former office building. The balance of accommodation will be provided in the form of a new build block along the southern boundary, with one commercial unit on the Commercial Street frontage.
New build elements will be formed from a mixture of stone, dark stained timber cladding, zinc and reconstituted stone.
Confirming the plan the architects wrote: "The development is unusual in nature, being possible due to the assembly of several different sites to achieve a unique opportunity to create a resolved newly master planned quarter of Leith. The overall development includes the change of use of two historic derelict buildings. The nature of these types of project incur substantial abnormal costs. It is therefore proposed not to include any affordable housing as part of this development."

As part of the project a new pedestrian route will connect to Charlotte Street.
Back to January 2019