Drum unveil final proposals for £50m Leith Walk 'quarter'
August 7 2018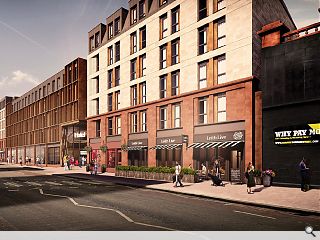 Drum Property Group have capped a series of public consultations with submission of a detailed planning application for creation of a £50m mixed-use 'quarter' on Edinburgh's Leith Walk.
The 2.9 acre site at Stead's Place will play host to a combination of 53 affordable homes, student housing, a 56-room hotel and retail as well as a restaurant, café and live music venue. These elements will be unified through 9,000sq/ft of open leisure space provided by the University of Edinburgh for shared use by students, guests and the public.
This will see a single-storey run of red sandstone units redeveloped, extending to an industrial estate behind, after the existing buildings were deemed not to be an 'economically viable investment'.
Graeme Bone, Drum group managing director, said: "We have listened to the often-passionate views of the local traders and community and we understand the importance of maintaining a distinctive and independent feel for this important stretch of Leith Walk - whilst bringing a bold, modern development for a confident and diverse Leith.
"Our proposals will bring an added dimension to Leith Walk, opening up what is currently an inhospitable industrial site by creating a vibrant, contemporary and accessible community for residents and visitors alike."

The development has been designed by Halliday Fraser Munro and could get underway in earnest in 2019 when all existing leases expire, connecting Leith walk to Pilrig park by way of new landscaped walkways and cycle routes.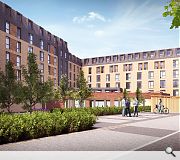 An interior industrial estate will be swept away to provide additional housing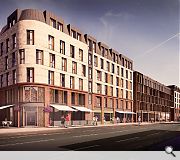 Drum will continue to liaise with the local community with the intention of incorporating large murals and stained glass windows to define prominent corners.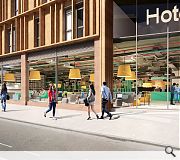 Existing occupiers are being invited to resume their tenancies in the new development
Back to August 2018