Bridgeton evolves with varying needs housing
November 27 2018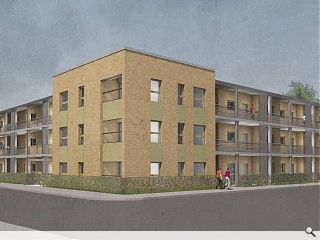 Thenue Housing Association have lodged proposals to build 27 flats at Landressy Place, Bridgeton, as part of an ongoing regeneration drive for the east end district.
The three-storey development has been designed by John Gilbert Architects to Housing Varying Needs standards which includes a 10% allowance for wheelchair accommodation as well as measures to foster social interaction.
Attention will also be paid to people living with dementia with closes decorated to create a floor to floor identity within the building including high level covered walkways to the north and east.
In a statement the architects wrote: "The single common close provides extra security while also creating a focal point slightly offset from the corner. The circulation space will be serviced by one staircase and lift set off the main street and will benefit from a full height curtain wall screen system on all floors."

Formed from a timber structural frame clad in brick and laminated panels with concrete and steel walkways the project aims to present a 'robust' elevations to the street.
Back to November 2018