University of Edinburgh kickstarts King's Buildings campus masterplan
October 22 2018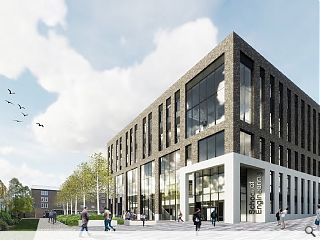 The University of Edinburgh has partnered with BDP to create a new School of Engineering within the King's Building campus.
Offering 6,500sq/m of floor space the five-storey build is the first element of a five-phase masterplan for the site which will ultimately see the entire school relocate to the site by 2025.
Conceived as a standalone building phase one will provide a mix of specialist teaching spaces and laboratories as well as research labs, social zones and catering.
Current proposals call for facing brick and glazed curtain walling to be deployed alongside metal rainscreen cladding panels.
Outlining the school's vision BDP wrote: "In undertaking a phased relocation from the east to the west side of the King's Building Campus, the School of Engineering has proposed a bold vision to 'provide state of the art teaching, research, study and social facilities to meet the current and future demand of the School'. The School anticipates significant growth in the future and therefore the masterplan reflects this increased provision whilst acknowledging that a key driver of the project is to demonstrate and implement space efficiency."
Phase one construction works are expected to begin by the third quarter of 2019, adhering to an original masterplan first conceived by Page/Park Architects and subsequently revised by Bennetts Associates.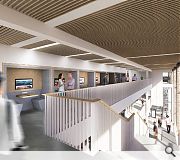 New facilities are needed to help foster a more collaborative working environment as the school expands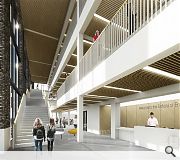 The School of Engineering will undertake a phased relocation to the new facilities
Back to October 2018