£110m Hamilton university campus welcomes first students
October 10 2018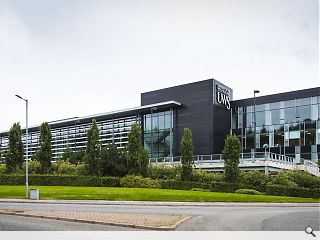 HFD Property Group, haa design, Gravenand Mosaic Architecture + Design have completed work on a £110m campus for the University of the West of Scotland at Hamilton International Technology Park.
Three buildings stretching to 235,000sq/ft provide a range of laboratories, teaching facilities and social spaces as well as a gym and form a shared 'street' along the spaces between which also double as outdoor meeting and learning areas.
It is claimed that the resulting campus is now the UK's 'greenest', courtesy of carbon neutral buildings and features such as 100% renewable energy and rainwater harvesting.
Neil Haining, director of Mosaic, said: "The new UWS Lanarkshire Campus is truly an innovative, dynamic and collaborative university campus, filled with inspiring and flexible teaching spaces and packed with new technology.
"Three separate campus buildings are joined by 'The Street' – a well-designed bright and airy social space which provides the ideal environment for students staff and the wider public to study, relax or socialise."
Also included is a 236 person capacity auditorium and conference room for up to 128.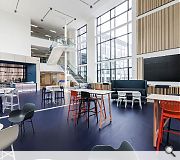 Students and staff are already making the most of their new surroundings
Back to October 2018