West end flats proposal meets resistance
September 26 2018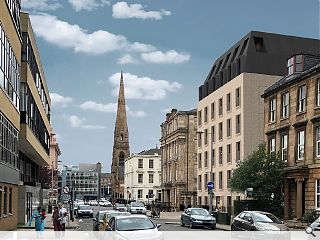 A bid to build twelve flats on the site of a café at North Claremont Street in Glasgow's west end has sparked some resistance from those who already live in the area, fearful of the proposed shift in scale.
Under the plans a single storey restaurant, stub of a four-storey tenement which once filled the plot, will be swept away in favour of a seven-storey sandstone and zinc block topped by a mansard roof.
A number of critics have already lodged their objections however, pointing to everything from the loss of hedgehog habitat to the scale and design of the new build in an effort to head-off the proposed plans.
One nearby resident, mary Murphy, wrote: "The design, increased size, massing and materiality of the proposed development will be detrimental to the character and setting of the beautiful, historical listed buildings of Royal Crescent and Terrace and does not in any way enhance the character of the Park Conservation area. It is a modern carbuncle!"
It is understood that the ground floor unit previously served as a pub in the 19th century.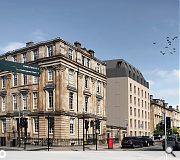 A large mansard roof tops the proposed design
Back to September 2018