Scottish National Gallery transformation begins
September 25 2018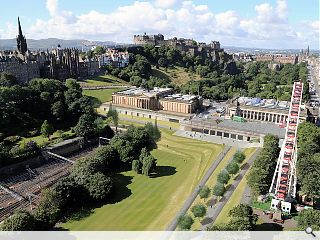 A £22m transformation of the Scottish National Gallery in Edinburgh is set to begin next month with work to bring new galleries, public space and displays to the Princes Street Gardens Institution.
Plans prepared by Hoskins Architects will provide direct access from the gardens for the first time, opening the galleries onto new landscaping and an extensive network of pathways.
The interface between park and galleries will be met by a wall of windows stretching the full width of the façade, drawing as much light into the interior as possible while opening up dramatic views.
Dr Tricia Allerston, co-director, Scottish National Gallery Project, added: "Visitor numbers to the Scottish National Gallery have almost doubled in the past ten years but fewer than one in six of them made their way to the cramped, dark spaces which used to house the national collection of Scottish art. Soon, visitors will be able easily to discover, appreciate and enjoy our highly significant collections of Scottish art through a series of innovative displays designed expressly to engage them.
"Imagine looking at a painting of Sir Walter Scott and then looking out of the windows into Princes Street Gardens, a landscape created during his lifetime and which is now dominated by the great monument marking his international fame. Or being able to appreciate the stunning Scottish landscapes painted outdoors by the Glasgow Boys and then looking out onto a real, natural world."
The current galleries will remain open throughout this period of upheaval with completion expected early in 2021.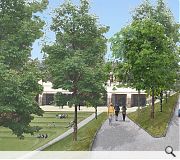 A network of garden paths will connect to the galleries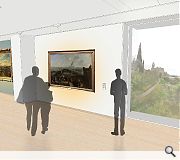 Additional gallery spaces will be carved out of surplus offices and galleries dating from the seventies
Back to September 2018