Do keep up with the neighbours with mansard roof addition
September 11 2018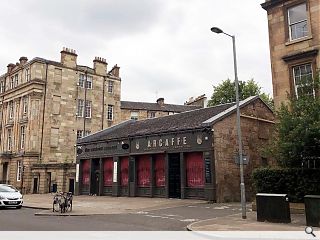 Do Architecture are proposing to up the density at North Claremont Street in Glasgow's West End conservation area through the addition of 12 flats.
The seven-storey build is defined by a large mansard metal roof containing twin high-level duplex flats, each with access to their own private terrace. Detailed with perforated metal this sits on top of the bulk of accommodation below finished in natural stone cladding.
Taking the place of a denuded tenement, stripped of its upper floors at some point around the mid- 20th century, the new build will largely occupy the same footprint but reclaim a rear courtyard to serve as a parking and amenity space.
Articulating their plans the architects wrote: "The current site is occupied by a one-storey building that has operated as a café/restaurant for a number of years and is intended to be demolished*. The site has since been sold to our Client, North Clairmont Street Properties Limited who wish to demolish the existing building and create 12 new homes for sale in this brand new high-end residential development."
The mansard roof echoes a similar addition added to Dachgeschoßaufbau Gußhausstraße, Vienna, Austria by BWM Architekten.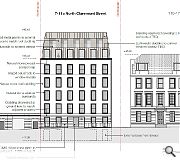 The remains of an existing tenement will be cleared to make way for the build
Back to September 2018