Scottish National Gallery project scaled back to keep costs under control
May 31 2017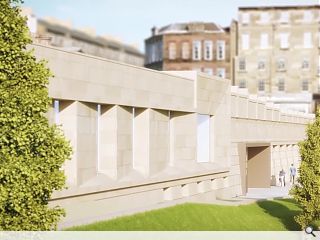 The National Galleries of Scotland have scaled back
plans for an ambitious transformation of its Edinburgh base
after discovering that aspects of the £16.8m Hoskins designed project were more complex and expensive than first thought.
As a result, it has been decided not to proceed with the difficult engineering challenge of building out an additional five metres along East Princes Street Gardens above mainline railway tunnels - allowing the rest of the project to proceed as envisioned within the approved budget.
This will still see current gallery space double while improving circulation to improve the galleries display of Scottish art, which will now be presented alongside international displays rather than set apart. New galleries will also be built opening directly onto the gardens which will themselves benefit from improved landscaping.
National Galleries of Scotland director-general Sir John Leighton said: "As with any venture, this project has its fair share of challenges but we are delighted that we can now move forward with plans that maintain our ambition to completely transform the presentation of Scottish art and the experience of visitors to the Scottish National Gallery."
Estimated completion has been pushed back a year as a result of the changes however, which will itself carry an additional expenditure cost in addition to those arising from the redesign work itself.
Back to May 2017