DTA reach out to planners with cantilevered Bothwell home
September 7 2018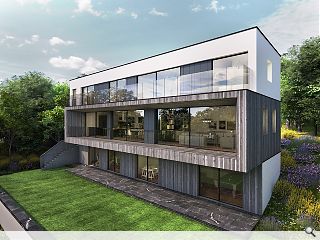 DTA Chartered Architects have tackled a difficult site on the banks of the River Clyde through Bothwell to design a cantilevered family home arranged over three levels.
The steeply sloping nature of the plot, together with the presence of mature protected trees, constrained developable land to a small triangle at the northern edge of the large site with planning restrictions further constraining options.
In juggling these competing demands DTA have created a multi-level home set within the slope of the embankment finished in pre-weathered grey larch, grey stone and white render.
Explaining how these restrictions fed through into their design the practice wrote: "We had to carefully consider the plan to maximise the space and get the accommodation the clients were looking for. The accommodation sits over three levels with the lower ground level having a small footprint in comparison to the upper floors which cantilever out the rear to extend the floor plate.
"The main living accommodation and main bedrooms have all been arranged along the rear to allow views across the mature garden and the river."
Such an approach achieved the desired results with planners at South Lanarkshire Council giving their consent to the scheme earlier this week.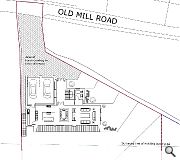 A grey stone entrance feature will address Old Mill Road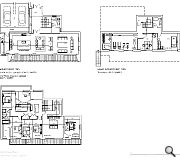 Three levels of accommodation make the most of available space
Back to September 2018