University of Aberdeen bring forward revised science teaching hub proposals
September 10 2018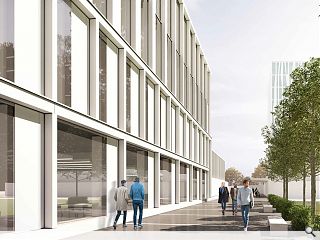 Reiach and Hall Architects have returned with a number of design revisions for a planned science teaching hub for the University of Aberdeen; increasing the build in scale with associated amendments to the elevations.
An increase in height by just over three metres and width by just under one metre has necessitated a different façade treatment being adopted alongside a new landscaping arrangement from the scheme as it was first proposed in January.
In practice this will see the alternating pattern of vertical solid and void elements broken by a run of ground floor picture windows opening up serviced laboratories to surrounding parkland.
As before the project will be finished in vertical white acid etched stone broken by anodised aluminium panels with slot perforations to facilitate ventilation.
Delivery of the revised scheme is scheduled for delivery in a single phase from the end of the year and completing by mid-2020.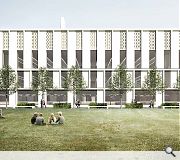 Corresponding alterations to the landscaping approach have been necessitated by the alterations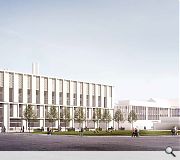 New teaching spaces will prioritise the installation of digital technologies
Back to September 2018