Silver-themed Brodick Castle gardens lure visitors
September 7 2018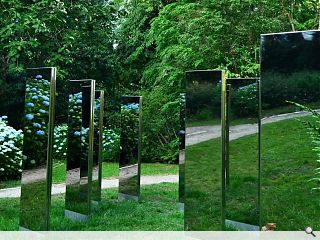 The National Trust for Scotland has unveiled a new silver-themed garden within the grounds of Brodick Castle on the Isle of Arran in an effort to double visitor numbers to the historic home 45,000 to 100,000 per year.
A series of art installations have been inspired by the castle's extensive silverware collection including a talking tube, xylophone and wind chimes. These are joined by new sculptures including a stag created by artist Sally Matthews constructed from the leaves of Arran Whitebeam and bracken.
The centrepiece however is a forest of 21 mirrored pillars conceived as a conremporary interpretation of the enigmatic Machrie Moore Standing Stones, a collection of six Neolithic stone circles found on the island's west coast.
Jared Bowers, operations manager – Brodick Castle, Gardens and Country Park at the National Trust for Scotland, commented: "The Silver Garden is a celebration of the spectacular natural environment at Brodick Castle and the different influences that helped to shape it. Historically, the design of the gardens and grounds was inspired by romanticism. The new additions to the gardens offer a fresh take on these ideals and are perfectly situated within Brodick's location.
"Using reflective materials, the installations create a sensory experience that blend and warp with their surroundings, encouraging people to find their own inspiration in the environment around them."
Brodick Castle itself remains closed until the 2019 season to allow for a reorganization and reinterpretation of its collections as well as install a £1.5m fire protection system.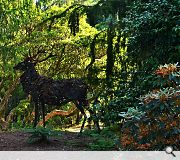 A life-size stag sculpture has been erected using nothing but the leaves of Arran Whitebeam and bracken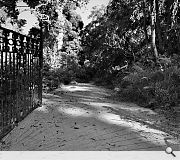 A series of silver bars have been placed under the Spanish Gate entrance to the woodland garden
Back to September 2018