Kinghorn Eco Cemetery draws from past traditions
August 21 2018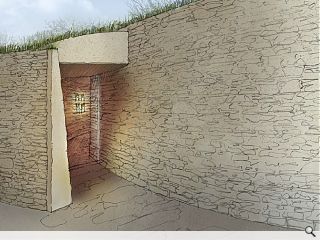 Kinghorn Community Land Association have put forward proposals for the UK's first not for profit cemetery, providing much needed additional burial capacity for the Fife town.
Billed as an 'eco-cemetery' Kinghorn will consist of a simple earth-moulded congregation space for services and contemplation, overlooking a depository for cremated ashes set within 6 acres of landscaped grounds.
Concept designs prepared by Mike Hyatt landscape architects, Simpson & Brown and David Narro Associates call for an earth-moulded gathering space alongside a Roman-style 'Columbarium' containing rows of niches for the storage of urns – a first in Scotland.
Modelled on a traditional long barrow the Columbarium will contain a minimum of 400 niches, each sealed by its own memorial stone. Internal illumination will be by candlelight with natural rock and stone finishes.
Explaining the concept the applicants wrote: "An eco-cemetery aims to reduce the impact on the environment of burials so that instead of being simply a cemetery with formal paths, headstones and mown grass, burials are within a wildflower meadow that is managed to both look attractive and benefit wildlife. Bodies are buried in shrouds or biodegradable coffins and burials and site management have an ecological focus."
The existing council-run Kinghorn cemetery is already full but with the provision of additional burial capacity locals will retain the option of remaining in their home town.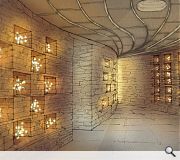 400 niches, each with capacity for 6 urns, will be housed within a 'columbarium'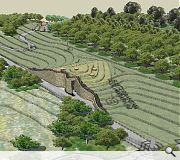 A burial landscape of standing stones, paths and a 'memorial wood' will be created
Back to August 2018