Wharf vision detailed in revised Pacific Quay masterplan
August 13 2018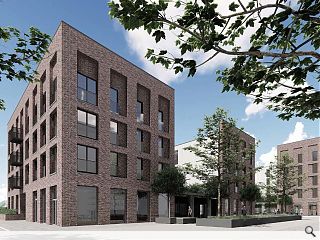 Cooper Cromar and Drum Property Group have filed plans for a revised masterplan for three hectares of land off Govan Road at Glasgow's Pacific Quay.
Fronting the current Canting Basin the land has already received planning permission in principle for a mix of business, residential and amenity use which will slot within a 'geometric framework' to provide future flexibility.
These plans have been revised to subdivide the land into nine development plots, increasing the residential space on offer while adding a visitor centre and micro-distillery to the mix while opening up- view corridors to Govan Town Hall.
Explaining their masterplan approach Cooper Cromar wrote: "The central view corridor, terminating on the entrance to Govan Town Hall has been a key driver in the final positioning of the urban blocks.

"The pedestrian route through the centre of the site widens between the central plots to allow commercial activity to spill into this zone and provide usable amenity to all residents, sheltered from the road traffic to the south, and to a lesser extent the quayside road.

"The design of the Distillery has also been carefully positioned to allow the quayside road to terminate on a large picture window, housing 2 traditional copper whisky stills."

Revised plans call for 25,000sq/m of office space alongside 450sq/m of leisure uses and 60 homes, each with active ground floor uses. All buildings will be unified through a common use of brick, with regular window reveals to create the impression of a 'modern wharf'.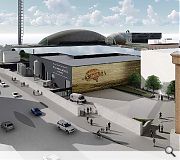 A new distillery will sit at the heart of the project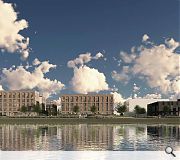 A unified palette of materials has been specified to create a modern wharf aesthetic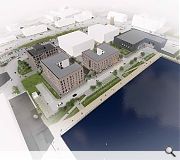 Car parking and transport routes will be concentrated to the south
Back to August 2018