Crieff bowling green set for 'micro-place' transformation
August 6 2018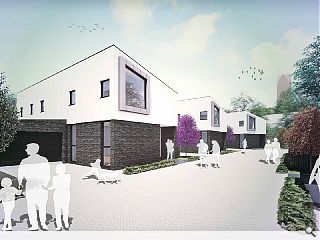 Struan Homes and :thatstudio are collaborating on the delivery of 16 new homes at a former bowling green in Crieff town centre.
Accessible from Mitchell Street the enclosed island site will be opened up via new pedestrian connections to surrounding streets, with particular focus given to opening up vistas to Crieff Parish Church.
Outlining their design proposals the architects wrote: "The site is contained, in effect a back court and as such new development should have a strong identity and create a micro-place.

"The design is assembled with the aspiration to create a 'mews' environment. Buildings are pushed forward to the street edge and create a consistent building line. A shared surface environment seeks to create pedestrian priority, encourage social interaction and foster a sense of community whilst reducing vehicle speed - adopting homezone principles."

A combination of four detached homes and 16 flats are earmarked for the role, unified through their 'simple and rectilinear' plan forms and common use of gables and high-level bay windows.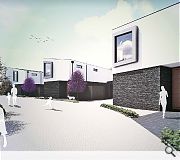 Homes and apartments will adopt a common architectural language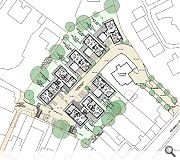 Rectilinear buildings will define a new street edge
Back to August 2018