ICA secure consent for gabled Cambridgeshire hotel
August 3 2018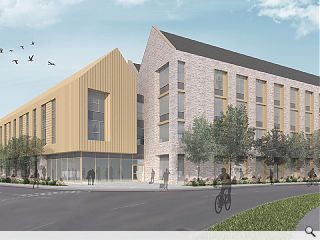 A new hotel defined by its use of contemporary gables has secured planning approval from Cambridgeshire planners to form a new landmark for Cambourne town centre.
The 144-bed hotel and detached pub/restaurant has been designed to form an active ground floor frontage to bring a new-found sense of place to a disused site dominated by service elevations of neighbouring hotels and supermarkets.
In a statement the practice wrote: "The form and elevational treatment have been designed to complement the surrounding context in a contemporary approach. The hotel will be clad in a simple palette of material consisting of buff brick, standing seam cladding & PPC aluminium windows/curtain walling. In response to the surrounding context and site characteristics, the hotel form is split into two clear blocks varying in height.
"The two-storey block has a horizontal elevational treatment while the 3-storey block has a tripartite vertical arrangement. These elements collide at the junction of Back Lane and De La Warr Way to create a dynamic architectural form. Approaches to the hotel from the north, south and east will be accentuated by key architectural features."
Back to August 2018