Future secured for former Kilmacolm orphanage
August 3 2018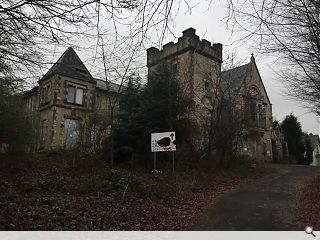 Inverclyde Council has given its blessing to proposals for the residential conversion of a former orphanage in Kilmacolm into 49 homes under plans put forward by Mosaic Architecture + Design.
Dating from 1899 the David Barclay designed Balrossie House has fallen into a state of decay since falling vacant in 2004, leading to significant deterioration of the main school and a number of important outbuildings and annexes.
Proposals call for retention of the south, east and north facades of the main building which will be repaired, including a new slate roof with terracotta decorative ridges to match the existing finish. Behind these walls 12 flats will be built behind existing door and window openings with a newly built west elevation constructed from matching materials and proportions with reconfigured windows and doors.
A separate annexe building will be fully refurbished to provide an additional two semi-detached villas while a former water tower will be recreated as a detached home.
27 new build houses will also be created in the site grounds to help subsidise the refurbishment.
Back to August 2018