George Square to serve as Glasgow 2018 hub
August 1 2018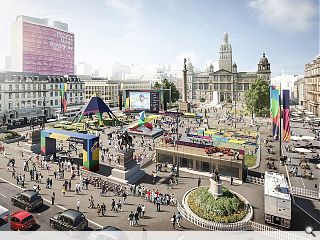 Glasgow's George Square is being readied to serve as a hub for the 2018 European Championships where it will double as an events space and venue for Cycling Road Race competitions.
The opening and closing parties of Festival 2018 will also be held on the historic square, which will be adorned by new commissions from Turner Prize winning artist Douglas Gordon.
With the city chambers and Cenotaph war memorial serving as a backdrop for broadcast coverage, contemporary interventions have also been commissioned – led by a large-format installation conceived by contemporary visual artists Joanne Tatham and Tom O'Sullivan which will create a dramatic new entrance to the square for the events duration.
Ron Chakraborty, executive editor of major events at BBC Sport, commented: "This is a huge logistical exercise and I'm delighted that George Square will provide the backdrop to our coverage. With its incredible architecture and history, there is nowhere more synonymous with Glasgow and we're thrilled to be using it as the base for our on-screen coverage."
Festival 2018 will run from 2-12 August.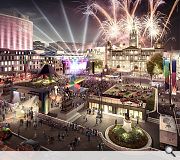 An array of contemporary artworks and pavilions will adorn the Victorian civic set-piece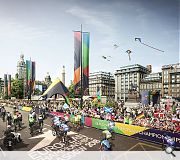 The square itself will play host to road cycling events over the course of the games
Back to August 2018