Argyle Street 'Avenue' consultation gets underway
June 13 2018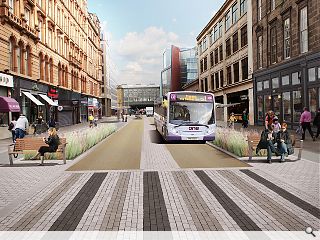 Attention is turning to the Argyle Street component of
Glasgow's 'Avenues' project
this weekend with the launch of a public consultation designed to shape how the next phase of the giant public realm project will look.
Examining a stretch of public realm from Anderston Cross to Trongate, as well as St Enoch Square through to Clyde Street, the project will examine public demand for walking and cycling provision as well as identifying the need for green space and events accommodation.
Armed with this information designers will redesign the street accordingly to improve connectivity and enhance the visual appeal of the streetscapes as part of the £115m Avenues component of the Glasgow City Region City Deal.
The Argyle Street consultation forms part of 'Block A' which focusses on Argyle St East & West along with St Enoch Square; The Underline – (a pedestrian and cycle route linking Gt Western Rd with the city centre); Sauchiehall Precinct; Cathedral St and North Hanover St.

Stephen O'Malley, founding director of Civic Engineers who leads the design team for Block A said, "Getting the opinions of the public on these initial ideas and principles for Argyle Street is a fundamental part of the process.

"The information we collect in this first stage of consultation will help us to determine how to balance the space allocated to each element; walking, cycling, nature and so on, to inform the proposed final designs that will be out for formal consultation later in the year."
On Street Consultation Schedule
Friday 15th June – 10am – 2pm – Argyle St at Buchanan St
Friday 15th June – 2pm – 6pm – Hielanman's Umbrella
Saturday 16th June – 10am – 2pm – St Enoch Sq
Saturday 16th June – 2pm – 6pm – Trongate
Sunday 17th June – 10am – 2pm – Trongate
For the latest updates check twitter @GlasgowCC as this schedule may be subject to change at short notice
Back to June 2018