'Wacky' Edinburgh call centre dials up quirkiness
|
Send to friend
April 24 2018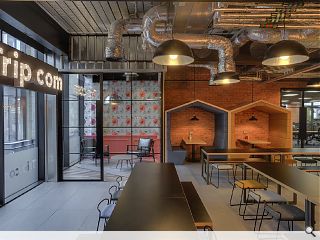 Online travel agency Trip.com has unveiled its unconventional Edinburgh HQ, a 13,000sq/ft office space which seeks to upend perceptions of what a call centre should be.
The interior space seeks to bring fun and excitement to the workplace by way of 'wacky' interiors in an effort to attract and retain staff. This includes a 'biophilic' design approach complete with a set-piece overhead planting feature playing host to 600 plants, all in the aid of reducing work related stress.
Lead designer on the project, Jordan McCaffery Partner of HK Surveying and Design, said: "With the war for talent becoming increasingly challenging, office design plays a crucial role in gaining a competitive advantage.
"While the raw industrial style has dominated the contemporary workplace in recent years, we wanted to challenge the traditional approach by adding a twist. From taxidermy that lines the training rooms' walls to large rotating propeller blades and playful wallpapers, there isn't a single corner of this office space that hasn't been thoroughly considered. While the moustache and galactical themed meeting rooms contribute to the desired fun and exciting atmosphere of the office, incorporating biophilic design into the built environment aims to reduce stress-related illness and redress the diminished connection to nature."
Jim Scott, joint MD of fit-out specialists Scotwood Interiors, added: "So many aspects of it introduced a fun twist on tradition including a huge variety of wacky wall and floor coverings. From breakout areas to the meeting and training rooms to the open plan space, every room and area is different, with quirky features telling you that you are not in a conventional work environment."
Furniture, sourced locally from Bureau, includes ply-edge desk details and graphite tops as well as black leather lounge chairs. A lactation and wellness room is also offered to support employees returning from maternity leave.
Back to April 2018