Latest phase of Fasque House masterplan wins go-ahead
|
Send to friend
April 24 2018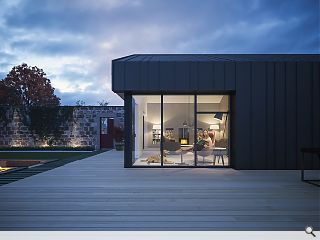 Plans to transform Aberdeenshire's
Fasque Estate
with 74 new homes, a visitor centre, café, equestrian centre and shop have been given the nod by planners, clearing the way for development within the grounds of the 19th century pile.
The latest phase of work has been overseen by lead architects OPEN and calls for the creation of a new 'village' while retaining the landscape character of the present grounds.
This will combine new build elements with listed buildings, including the A-listed Fasque House itself, in addition to steadings, a walled garden and a tree-lined avenue.
Housing will be contemporary in style but finished in brick, render and timber cladding under slate roofs in deference to the sites rural character.
In a statement ABC planning & design wrote: "Fasque House Estate's ambition is to create an exemplar development that demonstrates how modern sustainable design can sit in a historic rural setting. Place-making is at the heart of this new village. The intention is to create a series of dwellings that make meaningful connections to each other, the Estate's setting and the landscape beyond; that can fully enjoy the beauty of the setting and landscape. There will be a series of different uses and outdoor spaces of varying scales across the village."
An initial phase of work, lodged by Malcolm Fraser Architects/ LDN, Rankin Fraser Landscape Architects for 41 houses, was approved back in 2016.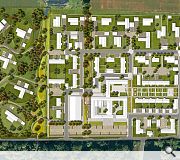 Accommodation will be arranged across eight distinct character 'zones'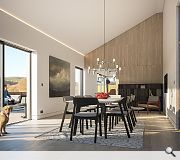 Homes will be contemporary in character, contrasting with heritage assets
Back to April 2018