Edinburgh Church puts its faith in expansion
April 12 2018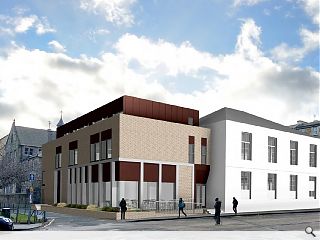 Aitken Turnbull Architects are taking the design lead expansion of a
B-listed church on the corner of West Richmond Street and Davie Street in Edinburgh
through demolition of a later extension and construction of a larger addition housing a café and first floor function room.
The chosen approach will see Life Church open up the important corner to maximise views of the Salisbury Crags with an active street frontage to help embed the church within the surrounding community.
In a statement the architects wrote: "The ground floor space is open and free flowing between the cafe space and church building and a central light well through the building will provide natural light into the deepest part of the plan.
"A simple and unobtrusive flank elevation treatment to the upper levels provide subtle brick recesses to mimic the opening proportions of the existing church."
Faced with buff brick and red zinc the extension will include a framed colonnade finished in cast concrete.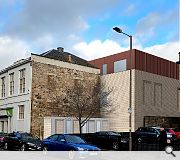 A collonaded cafe will provide street-level interaction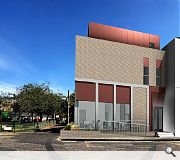 A rising congregation has seen the church outgrow its current premises
Back to April 2018