Granton homes return for second stab at approval
|
Send to friend
April 11 2018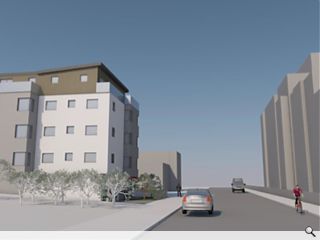 An application for the creation of
11 flats on vacant ground off Edinburgh's West Granton Road
has been filed by Ed Consilium, supplanting an earlier application for a taller building that was refused permission.
The latest proposals have been drawn up by Cockburn's Consultants by taking on board criticism of the original scheme by lopping off the top floor and expanding the amount of open space bordering Granton Crescent Park.
Finished in white roughcast with timber lining above a grey brick basecourse the project will include undercroft parking for three vehicles as well as a further eight surface parking spots and a landscaped amenity area.
In a statement: "The decreased height from the refused scheme to now incorporate 4 floors with parking and services at ground level is significant in that it now knits better with recent developments.
"The use of more interesting design features and timber linings on the eastern elevation 'softens' the impact of the proposal, whilst the previous case was perhaps a bit more 'blank' and arguably quite imposing."
The applicants believe that the revised scheme knits better into the surrounding urban fabric with a more visually interesting façade.
Back to April 2018