PRS homes to augment Broadford Works masterplan
|
Send to friend
April 12 2018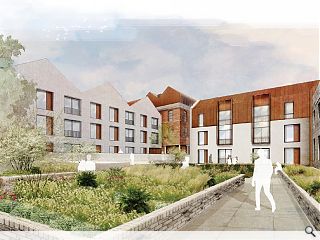 Aberdeen's PRS sector is set for further growth with a commitment by developer Inhabit to erect
36 rental homes
together with mixed retail and commercial units as part of a wider masterplan for
460 homes and 430 student flats at Broadford Works
.
New build elements have been designed to sit sympathetically within the ex-industrial landscape, retaining open public spaces between for amenity and access, modelled on the types of woven textiles was manufactured within the mills.
These additions will be positioned to reinforce the external perimeter of the sprawling site, arranged on a north/south axis in respect to the current urban grain, with particular attention paid to industrial-style roof pitches to reinstate some lost character.
Formed from a grey brick skin with deep reveals under a feature standing seam metal roof, folded down to form the wall cladding of uppermost floors. Rooftop extensions will also be added to retained structures in the same patinated metal cladding.
Three public squares form the heart of landscaping proposals by RankinFraser, retaining site materials such as granite, setts and stone flags where possible.
A separate application has been filed for redevelopment of the A-listed former Grey Mill which will see only the south gable wall retained, with the resto of the building to be taken down and a new building taking its place.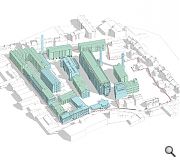 New build elements (turquoise) marry with retained industrial buildings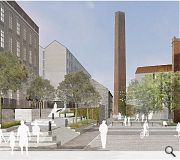 Public squares and landscaping will enhance amenity
Back to April 2018