Modest Ninewells Leaf Room named Scotland's best place
|
Send to friend
March 22 2018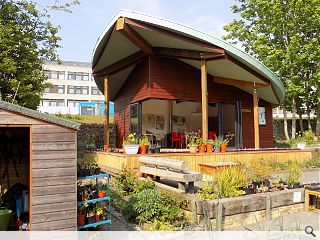 An unpreposessing garden room modelled on the form of a leaf within the grounds of Dundee's Ninewells Hospital has been recognised as the best new place in the Scottish Civic Trust My Place Awards.
The Leaf Room
offers a place of quiet repose to patients, staff and visitors on the edge of an area of woodland to the hospital's south. Sitting beneath a distinctive 'folded leaf' structure, sloped to aid collection of recycled water, the roof overhangs an activity space intended for use in talks, concerts or quiet contemplation.
Project architect Jonathan Reeve said: "This was a special project for me to be involved with, given that my wife works at the hospital and that I live around the corner."
Barbara Illsley of Dundee Civic Trust added: "The Leaf Room is a small building but it has had a big impact in the local community.
"The distinctive, folded leaf-shaped roof, reflecting the building's position at the edge of valued and historic woodland, gives the garden a sense of identity. The Leaf Room also provides space for those using the garden, whether for workshops, meetings or just a place to meet and chat."
The Leaf Room saw off challengers including
Lamer Island Battery by RankinFraser
; Cumnock Town Hall and pool by Dovecote Architecture;
Kirkmichael by McGregor Bowes
; An Crubh by WT and Pairc Niseaboist by Rural Design.
Back to March 2018