130 homes planned for Aberdeen's River Dee
|
Send to friend
March 22 2018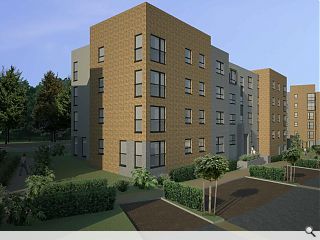 Mackie Ramsay Taylor Architects are proposing to build
130 affordable homes
between the River Dee and Abbotswell Road in Aberdeen on disused industrial land, supplanting a previously approved scheme for a mix of private and affordable homes.
Individual properties will benefit from enhanced space standards for wheelchair users while a green belt of planting will be used to blend the homes in with neighbouring Duthie Park. This will be threaded with new pedestrian links to improve connectivity in this part of the city.
In a statement the architects wrote: "The form of the buildings is broken up into a variety of smaller elements to keep a human and residential scale to the development.
"A restricted palette of High quality, sustainable materials are utilised, predominantly two shades of brick and a render coating. The buildings will be complemented by attractive hard and soft landscaped areas."
Split between two 'urban' and two 'island' blocks defined largely by their relationship to the treeline and are being delivered on behalf of Stewart Milne Homes.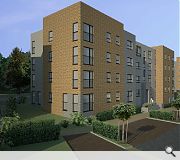 Homes will be arranged linearly along the edge of Duthie Park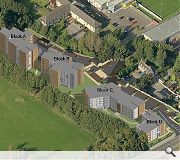 River views will be maximised where possible
Back to March 2018