Stobhill Hospital wards off capacity constraints
|
Send to friend
March 1 2018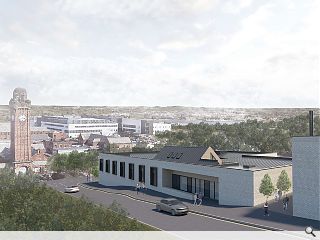 NHS Greater Glasgow & Clyde have specified a
twin 20-bed ward unit
and associated facilities to expand its acute adult and elderly care capacity at Stobhill Hospital.
Keppie have been appointed to a design team including Austin:Smith-Lord serving as landscape architects with the aim of giving some coherence to the ad-hoc hospital grounds by respecting existing building lines and framing views of its distinctive B-listed water tower.
Adopting a feature corner to address the elevated prominence of its site the resulting building adopts a simple linear form of minimalist multi-tone brick punctured by regularly spaced dark aluminium window frames.
Outlining their approach to the principal east corner Keppie wrote: "Where the buildings turn their east corner a play in the texture of the brick plane (protrusions and perforations) is employed to convey the significance of these areas within the scheme.
"The bedroom windows form a key element of the buildings' elevations. They perform a number of roles - they provide verticality to the horizontal planes, add relief to the elevations and accommodate the specialist reduced ligature windows of each bedroom. The rigorous pattern of their repetition follows the efficiency of the internal plan."
The hard-edged exterior is softened through use of timber at entrance recesses and an internal courtyard.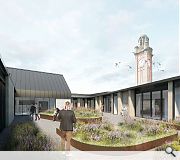 Areas of high interaction are faced with more tactile timber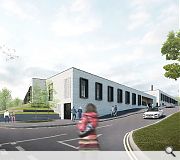 The addition seeks to work with the existing character of the campus
Back to March 2018