White blanket sparks red alert across the Central Belt
March 1 2018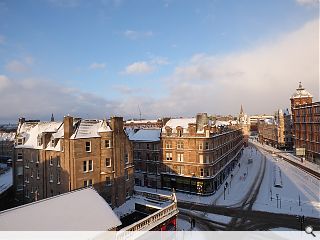 Construction sites have fallen silent across the Central Belt as workers heed advice to stay at home amidst unusually severe snowfalls that have brought much of the Central Belt to a juddering halt.
Public transport is one of the biggest casualties with rail and buss services knocked out together with the closure of Glasgow and Edinburgh Airport's.
Difficulty of travel has also led to a number of
events being cancelled
with snow lying at depths of around 6cm even in city centres.
It's not all doom and gloom however as unusually pristine cityscapes have emerged from the chaos as deserted streets see vehicles give way to nature.
Humza Yousaf, the Scottish government's minister for transport, said: "The travel advice in the affected areas today could not be clearer – do not travel unless it is absolutely necessary to do so.
"Even after the red warning is lifted, large parts of Scotland will still be subject to high level amber weather warnings for snow. This should not be underestimated. An amber warning means there is a real possibility that vehicles and drivers will become stranded – something that we have already seen happen during this period of snow."
A Met Office 'red warning', indicating a threat to life, will remain in place across Strathclyde, Lothian, Tayside, Fife and Central, the south east and the Borders until 10:00 today.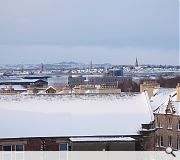 Glasgow's south side looking resplendent in the snow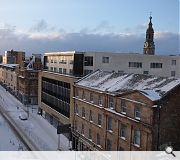 Unusually, even city centre roads have been blanketed
Back to March 2018