Lofty ambitions for UK's highest restaurant
|
Send to friend
January 19 2018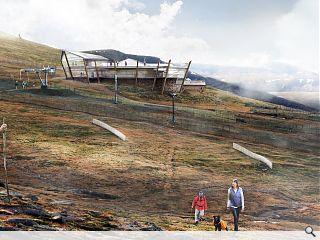 Plans for the UK's highest restaurant have been published by Natural Retreats who have commissioned Trail Architects to overhaul the visitor experience.
This seeks to enhance the appeal of the adventure and leisure destination, situated 3,599ft above sea level, through provision of a replacement day lodge housing a café, shops, ski centre, creche adventure zone, offices and event space.
A staff bunkhouse would also be provided in addition to a mountain rescue and medical centre for the mountaineering base, which would also play host to an artificial ski slope, mountain bike trails and elevated walkway.
Speaking of the need for change Adam Gough, of Natural Retreats, said: "Its sense of arrival is slightly underwhelming, there is a lot of congestion, and there are operational challenges.
"If we can solve that we can then open earlier and get more skiing time."
Angled structural posts are used to provide additional floorspace on prime upper floors while simultaneously minimizing its footprint.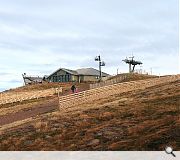 A rooftop deck will offer expansive views during the summer season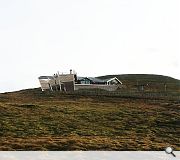 Durable materials as employed at the Snowdon Mountain Summit building will be used
Back to January 2018