John Lewis spearhead Bonnington housing push
December 14 2017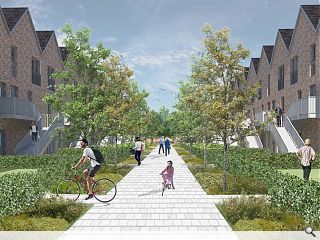 John Lewis have applied for permission in principle to build 220 homes at Edinburgh's
Bonnington Road Lane
on the site of a former depot.
In a
statement of intent for the 2-hectare
site EMA will seek to integrate the site into the wider area by positioning landscaped areas in order to aid movement as well as provide recreation space.
A range of linear blocks scaling up to six storeys in height will run perpendicular to the Water of Leith, opening up long views to the waterway with a separate courtyard formation employed to the south.
At its heart would be a linear park offering pedestrian connections to the Water of Leith via a central landscape corridor lined by Colony-style housing.
In a statement EMA wrote: "The architectural style should be contemporary, however design cues and materials chosen will reflect the rich industrial heritage of the surrounding area. Simple solid forms and repeating elements are not unlike the mills, foundries and warehouses once located throughout the Bonnington district."
Projecting and recessed balconies will be used to add interest via feature corners.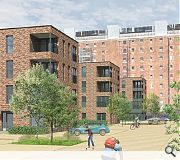 A landscaped corridor will bisect the site
Back to December 2017