Elderpark Community Centre makes a point
December 14 2017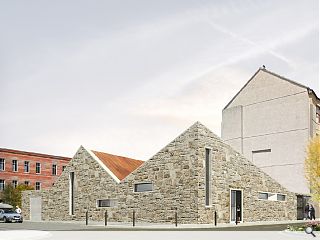 Mast Architects have unveiled plans for a new community centre in Govan on behalf of Elderpark Housing Association, offering improved facilities and resources for one of Glasgow's most disadvantaged areas.
Elderpark Community Centre
is a direct replacement for an existing centre on the corner of Elderpark Street and Nimmo Drive. Dating from the 1950's it has been deemed unfit for refurbishment.
Instead it will be pulled down to allow a new build solution to be created, consisting of a stone panel walling system around its outer perimeter with buff facing brick and copper effect cladding to an internal courtyard.
Internally the centre incorporates a main hall capable of subdivision via a foldable wall together with meeting rooms, a kitchen and associated facilities.
In a statement Mast wrote: "The stone wall the wraps around the site boundary slopes with the roof to create a monolithic wall presence and continues the solid stone tenement line aesthetic."
Angled to produce a significant corner feature to the street the centre can be entered via two wrought iron decorative gates and is scheduled to move on-site next October to complete by June 2019.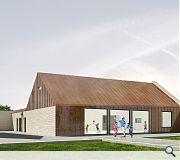 The copper finish extends over a standing seam roof
Back to December 2017