Atlantic Square trio moves forward with revisions
December 7 2017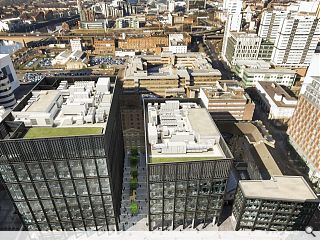 Cooper Cromar have filed for listed building consent to punch an additional archway through an
A-listed façade on Glasgow's James Watt Street
as part of an approved office and residential development.
This work will see basement access ramps routed through by reinstating an existing opening at the north end and punching out a new archway to the south – together with demolition of a later attic storey.
In a statement Cooper Cromar wrote: "The additional works proposed is a second vehicular entrance into the now split between two buildings basement car park. The new entrance is proposed to be created near the northern end of the listed façade where existing openings are.
"The new entrance will be identical to the consented design. The proposal employs existing detailing and materials. Creation of the second vehicular entrance will result in a symmetrical arrangement invoking an ordered, more balanced elevation. This will significantly further enhance the Listed Building whilst maintaining its original character through use of either original or identical to original materials."
Developed by BAM Properties and TCP Atlantic Square the project first
attained planning permission back in February
.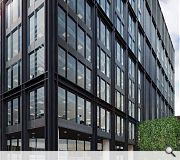 The development has been valued at £100m
Back to December 2017