Mackintosh's Hill House to be sheathed under a protective veil
December 6 2017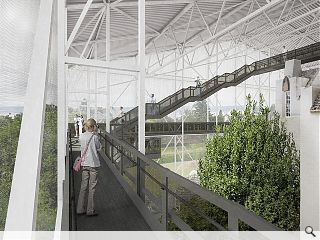 The National Trust for Scotland is to throw a protective veil over Charles Rennie Mackintosh's
Hill House
in Helensburgh amidst mounting concern for the buildings structural integrity.
Carmody Groarke Architects have been commissioned to create a vast enclosure with which to protect the property from the elements to provide conservationists with a much-needed breathing space to devise longer-term solutions.
Finished in a then-experimental Portland cement the home has suffered extensive water ingress throughout its life courtesy of the west coast climate, saturating walls to the extent that its structural stability could be affected.
Following decades of piecemeal remedial steps the NTS has taken the unprecedented step of commissioning a giant protective barrier to fix the problem at source, buying time until, a lasting solution can be found.
Threaded by a series of gangways and gantries the dramatic sheath will also give visitors a unique perspective on the homes exterior, not to mention expansive views across the Firth of Clyde.
Andy Groarke of architects Carmody Groarke commented: "The National Trust of Scotland are adopting a very bold approach to the conservation of the Hill House; one that is radical and experimental in seeking new methods to extend the lifespan of our heritage, and one that invites public interaction and interpretation of these processes."
The enclosure could be in place next year subject to a New Year fundraising drive and could remain in-situ for years thereafter.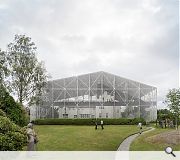 As an added bonus the structure will allow visitors to experience Hill house in ways never before possible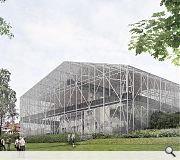 The Hill House project has been costed at around £4m
Back to December 2017