Wilson + Gunn kickstart Edinburgh Marina masterplan
November 16 2017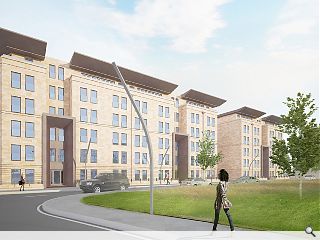 Wilson + Gunn Architects have pulled out
plans for 162 homes
from under their hat for Edinburgh Marina, a brownfield regeneration area in Granton with the capacity to deliver as many as 1,800 new homes - including
104 retirement flats
.
Comprising a mix of flatted perimeter blocks and terraced houses with front and rear gardens the scheme is intended to encapsulate a permeable urban space facilitating pedestrian movements with dedicated parking offered below ground.
Orientated to maximise views across the Firth of Forth and a newly formed public park the development will also include semi-private landscaped courtyards with an overall form rooted in traditional tenement streetscapes.
Explaining their approach Wilson + Gunn wrote: "The design of the flatted buildings is based on the proportions and rhythm of traditional Edinburgh tenement buildings with pairs of flats either side of communal close entrances. Window openings are tall, elegant in proportion and arranged in pairs to reference the articulation of window bays in traditional Edinburgh tenements.
"The massing of the buildings is articulated with feature breaks at the entrances. The facade steps in at these points, and rises behind and above feature, triple-storey, metal clad entrance 'surrounds' at the close entrances. The upper storey is recessed allowing for balconies on the front elevation. The balconies are sheltered by oversailing metal roofs."
Houses will employ a rusticated stone cladding on the lower floor with 'feature' render panels above, reminiscent of beach huts.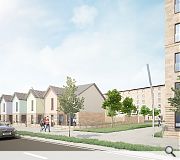 High quality public realm is promised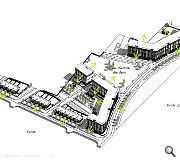 Robust apartments will shelter terraced houses
Back to November 2017