Commercial Glen Coe hotel plan sparks backlash
October 30 2017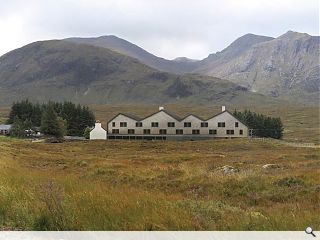 A bid significantly expand the footprint of Glen Coe's Kings House Hotel has elicited a backlash led by the National Trust for Scotland (NTS) and the John Muir Trust owing to the potential adverse visual impact on the popular beauty spot.
Covell Matthews architects are seeking permission on behalf of Black Corries Estates to redevelop the historic hotel, built in 1755 to cater for government troops and travellers, by removing dilapidated 1960's built extensions and building a larger 60-room extension.
This would allow the hotel to operate as a four-star attraction, capable of accommodating more passing trade from the busy A82.
Outlining their approach the architects observed: "The geometry of the proposal uses the original inn building as its starting point with the new build hotel projecting along a north westerly axis in alignment with the adjacent River Etive. The massing is broken down with the projection of single storey public spaces on the ground floor housing restaurants and bars."
"This distinctive design draws its reference from the surrounding environment; following a mountain range to generate its roof profile."
Finished in Siberian larch with a granite base course and slate tile roof the project has elicited a strong rebuke from the NTS; which has objected on the basis of an adverse impact on the built heritage and landscape of the area owing to an annex that would 'dwarf' the original kings House.
A
previous planning consent from Benjamin Tindall Architects
was deemed by the current owners to be commercially unviable.
Back to October 2017