Princes Square to make a grand entrance with remodel
October 30 2017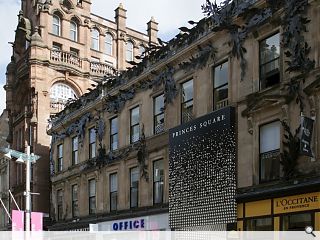 Glasgow's Princes Square shipping centre is to be given a new front door as part of a number of a comprehensive
overhaul of the retail destination by owners Redevco and ThreeSixty Architecture
.
Designed to ensure the covered mall can 'flourish again' the changes focus on its key relationship with Buchanan Street by increasing visibility of its primary entrance point, which currently blends with neighbouring retail frontages, ThreeSixty propose to focus on differentiating one entrance to draw greater footfall.
This will see a metal screen installed inspired by the Peacock sculpture which adorns the entirety of the B-listed façade, with perforations allowing the screen to be back-lit at night.
In a statement the architects wrote: "The three entrances on Buchanan street are lost in the visual richness and further suffocated by being of similar height and adjacent to traditional shopfronts either side.
"The concept is for a single object that sits proud of the elevation, starting below the second story windows and falling down towards the entrance. The plane then wraps its way around the complex interfaces and then flows into the entrance corridor accompanying the journey of all the visitors.
"The height of the new intervention creates greater legibility of the entrance but is not so high as to split the regimented Georgian facade."
ThreeSixty previously remodeled the interior back in 2012.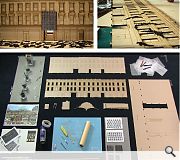 A 1:50 scale model was built to test potential design solutions
The metallic marker will take on a 'monolithic' quality from a distance
Back to October 2017