'Castle-like' ferry terminal shows Brodick is going places
October 31 2017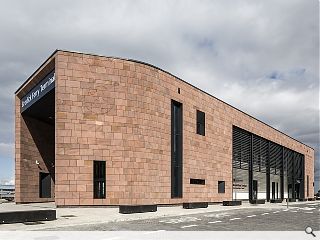 Norr are poised for the formal handover of a new
ferry terminal at Brodick
next month to serve as a new 'civic gateway' to the island of Arran on behalf of Caledonian Marine Assets.
Part of a wider overhaul of the harbour the contemporary addition seeks to foster a sense of arrival and departure with a blend of 'castle-like solidity' and transparency, helping to mask the presence of an industrial estate.
In their project description Norr wrote:" In architectural terms, the building is essentially a linear reflection of a linear process, enhanced by the use of levels and enriched by its prominent setting parallel to the sea. From an arriving ferry, the use of roof-lights, the variety of window sizes, the occasional use of deep reveals and the gently curving lines of the building's form all help to break down its overall scale.
"That, combined with the use of traditional hues and colours such as white walls, grey metal roof elements, and a red sandstone rain-screen, assists in anchoring what is a very large contemporary building into its more vernacular context. Most prominent public buildings on Arran, including the castle and many of its churches are constructed in red sandstone, and so is the new terminal."
Designed to facilitate the smooth and efficient passage of pedestrians and vehicles the terminal is dominated by a central departure lounge offering panoramic views from generous north-facing windows.
The project team included CH2M, max Fordham, Doig + Smith and George Leslie.
Back to October 2017