Tradeston high-rise's point way to new city quarter
October 23 2017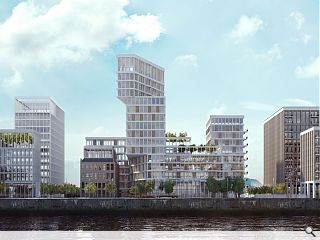 Drum Group have revealed their vision for a £350m mixed use scheme on the Clyde waterfront at Tradeston, the latest addition to its burgeoning development pipeline.
Buchanan Wharf
will constitute a 'new and distinctive quarter' for Glasgow offering 1,000,000sq/ft of office accommodation, 350 flats and a 150-bed hotel rising above a ground floor given over to cafes, restaurants, a crèche, 'touch down areas' and creative spaces.
In a statement Drum wrote: "Delivering a high-quality blend of services will be integral to the development. In addition to the high-class amenities and multi-use event areas, an integrated management service will be introduced by Drum, delivering building and site-wide facilities, event and travel management, to ensure residents services are tailored to their requirements, and occupier businesses run safely, sustainably and smoothly.
"The aim is to provide a safe, clean, attractive and stimulating environment, in which residents enjoy a stimulating community, business can thrive, and colleagues can interact professionally, productively and socially.
"This ambitious and dynamic place making is intended to resolve the poor connectivity and linkages between the city centre and the South side of the river and to activate over a quarter of a mile of river frontage in one of the UK's most aspirational cities."
Drum has spent recent years bringing complex land ownership rights in the area under its control, attaining planning permission in principle for a Stallan-Brand masterplan in January.
Back to October 2017