£450m Loudoun castle leisure park proposal gains momentum
October 18 2017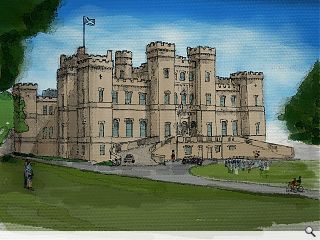 Plans to transform Ayrshire's Loudoun Castle estate into a £450m leisure destination have stepped up a gear with Harcourt Investments expected to lend its financial muscle to the project.
An existing consortium promoting the bid is confident that the London based developer can be brought on board to adopt the theme park idea as its 'next flagship project' should planning permission in principle be granted.
Loudoun Woods are hoping to restore the A-listed Loudoun Castle, currently just a shell, as the centerpiece hotel at the heart of 576 acres of landscaped grounds and tourist attractions; including holiday lodges, camping facilities, tree houses, sports grounds and a tropical-themed indoor swimming pool.
Included in this package would be an estate of 1,000 homes, described as a necessary component to provide funding for the castle's stabilization and restoration.
Loudoun Woods director David Mace said: "Loudoun Castle will be an all-weather, world-class holiday destination, which will attract visitors from all over the UK, create major economic benefits for Ayrshire and become a core part of Scotland's tourism offering.
"We are looking forward to the planning inquiry and, given a positive decision by Scottish Ministers, we are aiming to begin works in the summer of 2018 on a project that will transform the economy of this part of Scotland."
Paul Manning of Harcourt added: "We are engaged in very positive discussions and hope to be able to conclude an agreement to join the Loudoun Woods consortium. The site's historic setting, great transport links and proximity to some of the world's most famous golf courses, gives it massive potential to become one of the UK's most successful tourism destinations."
A planning application for Loudoun Woods Resort is currently subject to scrutiny by Scottish ministers, with deliberations set to begin on 23 October.
Back to October 2017