Urban Realm goes door to door this Halloween
October 18 2017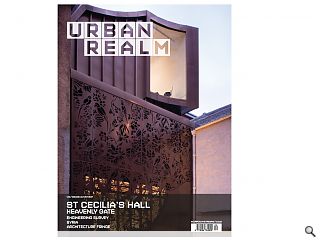 As Halloween approaches there is plenty to put the frighteners into anyone who holds the built environment dear, from embarrassing displays of pop-up architecture to the wails and moans of disgruntlement on Urban Realm's very own comment pages.
As antidote to this Urban Realm has some treats in store for you this issue, the meat of which is a partnership with the Architecture Fringe. As fellow campaigners for change it is a natural and long overdue pairing, giving voice to criticism of the RIAS but also heartfelt words on the present dysfunctional horror show across architecture, planning and urban design.
At its heart though is our manifesto for change, which acknowledges that rather than cower in fear we all need to shed our shackles and fight for a brighter future.
With that in mind we head further afield to speak with Syrian architect Marwa Al-Sabouni who hasn't been afraid to tackle far greater odds to rebuild a shattered nation. We endeavour to establish the scale of the task in hand, drawing parallels with the experience of war and planning failures closer to home.
Elsewhere we roll out our Engineering Survey, an annual focus on the vital contributions made by this sector. As part of this we visit a trio of buildings which push the envelope; beginning with a tour of Page/Park's magical St Cecilia's Hall before arriving at Hoskins Architects St Andrew Square by way of Michael Laird/Reiach & Hall's herculean Cathedral Street Campus for City of Glasgow College.
Pick up your copy now to get stuck right in to all this and more
.
Back to October 2017