Great Tapestry of Scotland weaves its way to Galashiels
|
Send to friend
September 21 2017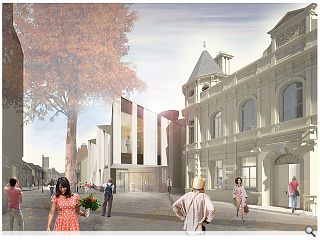 Page\Park Architects have submitted formal plans for the creation of a
£6.7m home for the Great Tapestry of Scotland in Galashiels
,
supplanting an earlier bid to locate the record breaking threads in Tweedbank
.
Located next to the town's former Post Office, which will also benefit from an overhaul, the project is expecte4d to serve as a catalyst for Borders tourism drawing visitors along the recently re-opened Borders railway.
The faceted new build gallery will connect to the B-listed Post Office by way of a glazed link, meeting the street with a ground floor reception area, café, shop and temporary gallery. At its heart would be the 143m long tapestry itself, painstakingly stitched together by 1,000 volunteers.
Councilor Mark Rowley, said: "The submission of the planning application for the Great Tapestry of Scotland visitor centre is the next step towards creating one of the most significant town centre economic development projects to take place in the Scottish Borders in recent years.
"The visitor centre would also be the first stage of a long-term strategy to stimulate investment in the local economy, and it is pleasing that local groups are supportive of this approach."
Assuming planning permission is granted the visitor centre could be completed by spring 2020.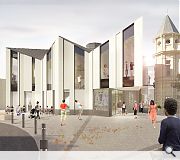 Galshiel's was chosen to host the tapestry as part of the Scottish Government's 'town centre first' strategy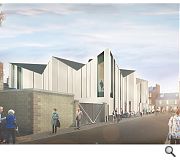 It is hoped that the building will be as big a draw as the tapestry itself
Back to September 2017