Chapman Taylor helm Braehead expansion
September 14 2017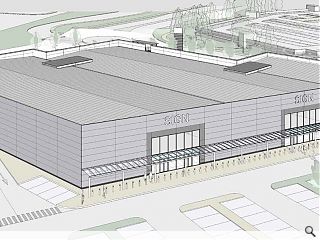 Chapman Taylor Architects have devised proposals for an
expansion of Braehead retail park
by erecting three new retail units on land currently off kings Inch Drive currently utilized for surface parking.
Finished in composite metal cladding on a base of blue engineering brick the public entrances will be defined by curtain wall glazing. Public realm improvements will include feature paving of grey tone slabs to tie-in with existing retail and the grey retail sheds.
Explaining their approach the architects wrote: "In terms of the building massing and appearance the team took the view that the best way of responding was to acknowledge the precedents of large-scale buildings along the Clyde, to create a strong destination within the estate and to ensure high quality and well connected public realm to connect back to the existing offer."
Braehead had been awarded 'town centre status'
in order to leverage a promised £200m mixed use development including an arena and hotel but subsequently overruled by the courts.
Back to September 2017