Staycity go Wilde for Edinburgh's King's Stables Road
September 13 2017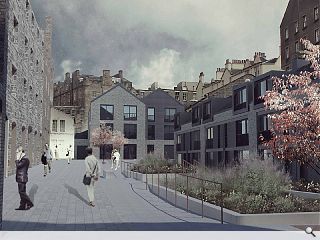 Aparthotel operator Staycity has been
confirmed for Edinburgh's King's Stables Road
, adding to existing sites in London and Berlin with a courtyard Old Town infill.
Distinguished by inclusion of an arts facility, gallery and exhibition space open to the general public the scheme will provide a shop window for the work of local artists.
The historic site once operated as a medieval tiltyard for jousting tournaments and has in more recent times been put to use as a home for Royal horses before coming into the ownership of Edinburgh City as offices, storage and workshops.
Staycity's Wilde Aparthotels take a hi-tech approach with touch control panels allowing lighting, air conditioning, towel rails and blinds to be configured remotely with rooms given Irish-inspired accessories and soft furnishings.
Staycity Aparthotels group development director Barry Hickey said: "With the brand's strong link to cultural icon Oscar Wilde we hope the arts facility element of the scheme will become a destination in its own right, benefitting local businesses and helping King's Stables Road become a new arts centre for the city.
"We eagerly anticipate welcoming the first collection of artwork and have made a pledge to commit to working with local artists to ensure that their excellent work is being highlighted and promoted."
Designs drawn up by Fletcher Joseph will see a predominantly new build scheme erected on the grounds, incorporating portions of an historic medieval wall.
Back to September 2017